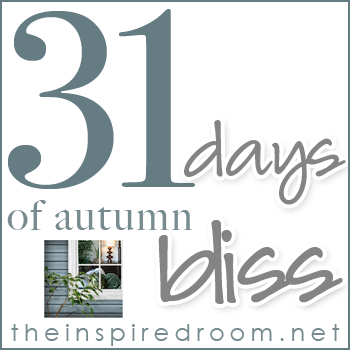 31 Days of Inspiration
It's finally here!! I found out about it from Melissa...
"My BBF Nester gathered up some awesome ladies to share 31 days of inspiration during the month of October, each on their own blogs and with their own 31 day theme!!"—Melissa at TheInspiredRoom.net
(photos are from her post)
For links to some of the participants' blogs, you can check out my blog list over on the riight side of this blog. It says, "31 days of inspiration". And those blogs will probably have links for any I didn't include.
31 Days to Creating a Home for Your Soul
I'm going to participate, too, right here at this blog! And I'm so excited to read the blogs of the others in this extravaganza. They so inspired me, I decided to join in.
Join me each weekday for that day's tip on how to create a home for your soul and share your thoughts in the comments section.
I'm starting today, so look for two posts on the same day today :).
Have a wonderful autumn day!
Jeanine
Celebrating Home
Home for Your Soul on Twitter
Contact Me