Decorating for Fall
Fall is my favorite season!! I swear I can feel fall in the air toward the end of August, in spite of the 90-degree-plus heat and humidity here in the south. And my eye starts roaming around the rooms in my home, looking for ways to begin to add those touches that say "autumn joy."
Well, if you feel that way, too, you and I are in great company. Head over to
The Inspired Room
and meet the collection of women who are already feeling fall!
Meet Me Here on Tuesdays and Thursdays
Join me every Tuesday and Thursday for home soul tips that will help you bring joy to your home and nurture your soul.
The Blue & Brown Extravaganza
On September 22nd, come back for the Blue & Brown Blog Party and show off something you have created or put together that combines the two colors. Click on the link for more of the details!
31 Days of Autumn Bliss
And starting in October, this blog will post every weekday as I enjoy
31 Days of Autumn Bliss
.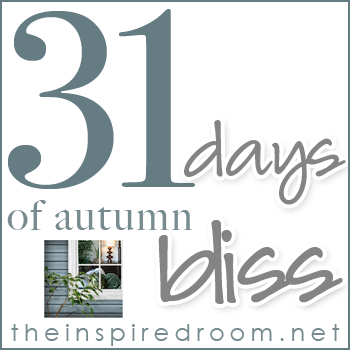 Feng Shui Principles
How to get started so you, too, can experience autumn wonder in October? Here are some brief ways to start the process. More on each in the days and weeks to come.
(1) Clear Your Clutter: I am doing that right now but let me admit that I have a ways to go because I am a pack rat.
(2) Clear Your Space: Release any negative energy trapped inside your home. Open the windows, light a candle in each room, mist or smudge the rooms and transform the way your house feels.
(3) Honor Your Alignment: Do you know which element your spirit aligns with most? Find out and choose carefully when you begin decorating.
Have a great weekend!
Jeanine